Caboolture Railway Station
The Village has the original Caboolture Railway Station, once located at the site of the present Railway station. The building adjacent to it is the goods shed and was used for storing goods until they were ready for transport. Missing from the site is the water tank, which was used to refill the boilers on the old steam trains.
The first trains were all steam trains, which ran on coal, having to take on water approximately every 50 - 80 kilometres depending on the gradient of the track and the size of the train. Caboolture was the first stop for water before the train continued further north, with the water being collected from Lagoon Creek and pumped into the holding tanks. Although the water pumps are no longer required, the location of the pump and a conserved boiler can be seen at the site.
The railway was opened between Northgate and Petrie on 1 March 1888. Work continued on the extension from Petrie and the Petrie - Caboolture section was opened on 11 June 1888. The line to the north was further extended to Landsborough and opened on 1 February 1890.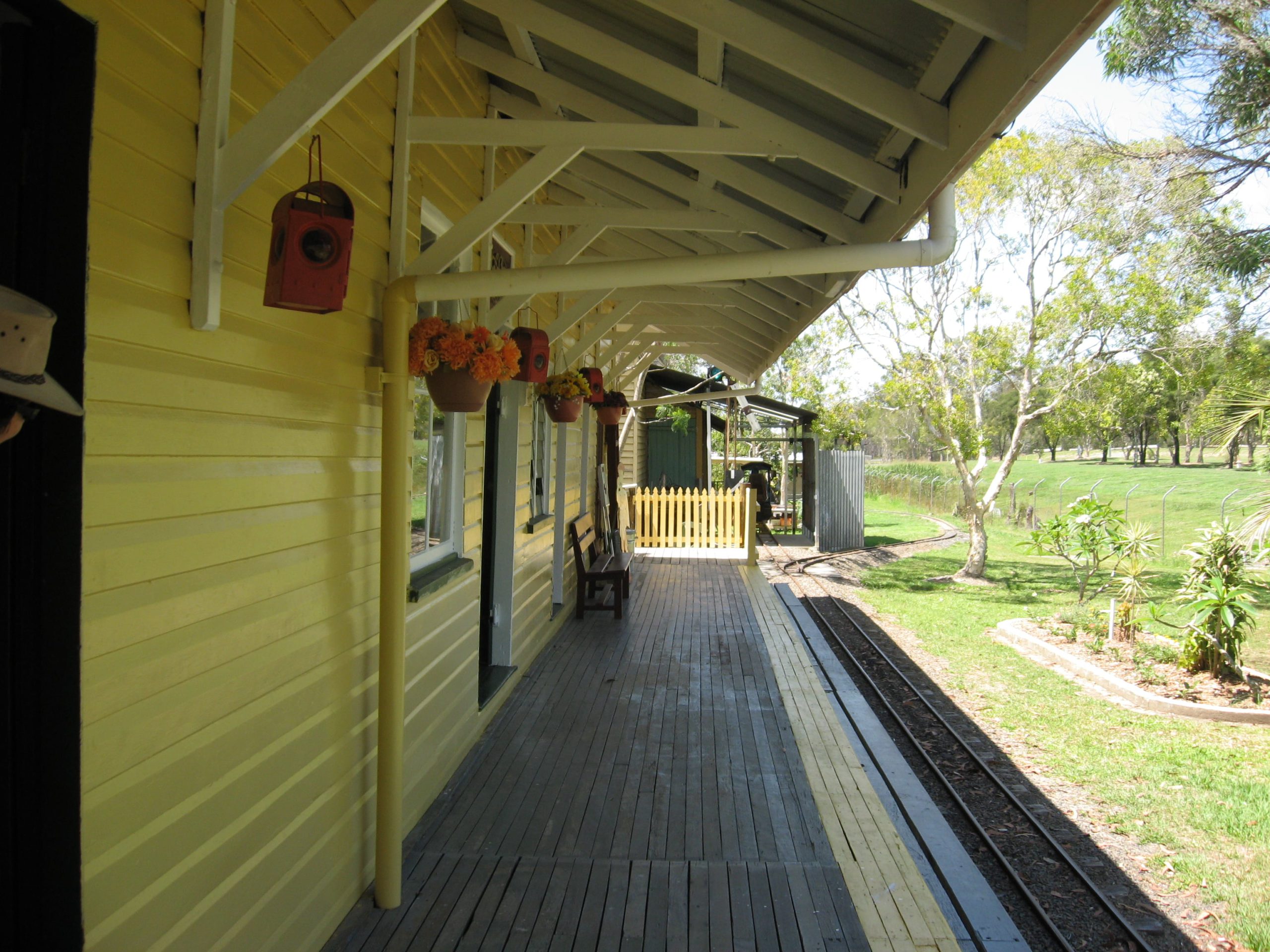 The coming of the railway to Caboolture was not only significant as far as transport of passengers and goods but in the carrying of mail. From the beginning of the township of Caboolture, mail had been carried from Brisbane overland by the Cobb & Co. Coaches, which were headed for Gympie and the Gold fields. However with the opening of the railway to Caboolture the postal department immediately took advantage of this improved method of transport. A few days after the line was opened - on 14 June 1888, mail was transported by rail between Brisbane and Caboolture and from Caboolture to Gympie by coach. A quote from Pugs Almanac in 1889 stated that the fares by rail from Brisbane to Caboolture were 4/5d single, 6/8d return first class and second class 3/1d single and 4/8d return.
On 6 December 1909 a railway opened between Caboolture and Woodford. This was further extended to Kilcoy.
The old Caboolture Railway Station goods shed and signal box were relocated to the Village in 1984. After three years hard work, a miniature steam train, including railway line and tunnel, was constructed which now provides train rides around the Village grounds, very popular with children of all ages.