A Funeral is a ceremony connected with the final resting place of a deceased person. Funerals have been around since modern Homo sapiens at least 300,000 years ago, some even believe from before this as well.
The Village received a very generous donation of a horse drawn Funeral Coach from the General Manager of Traditional Funerals, Mr Ross Roger on 19 May 2021.  Mr Roger attended with a representative from the Burpengary office, Mr Zac Webster, and carried out the official handover to our Society's President, Mr Roger Dunstan.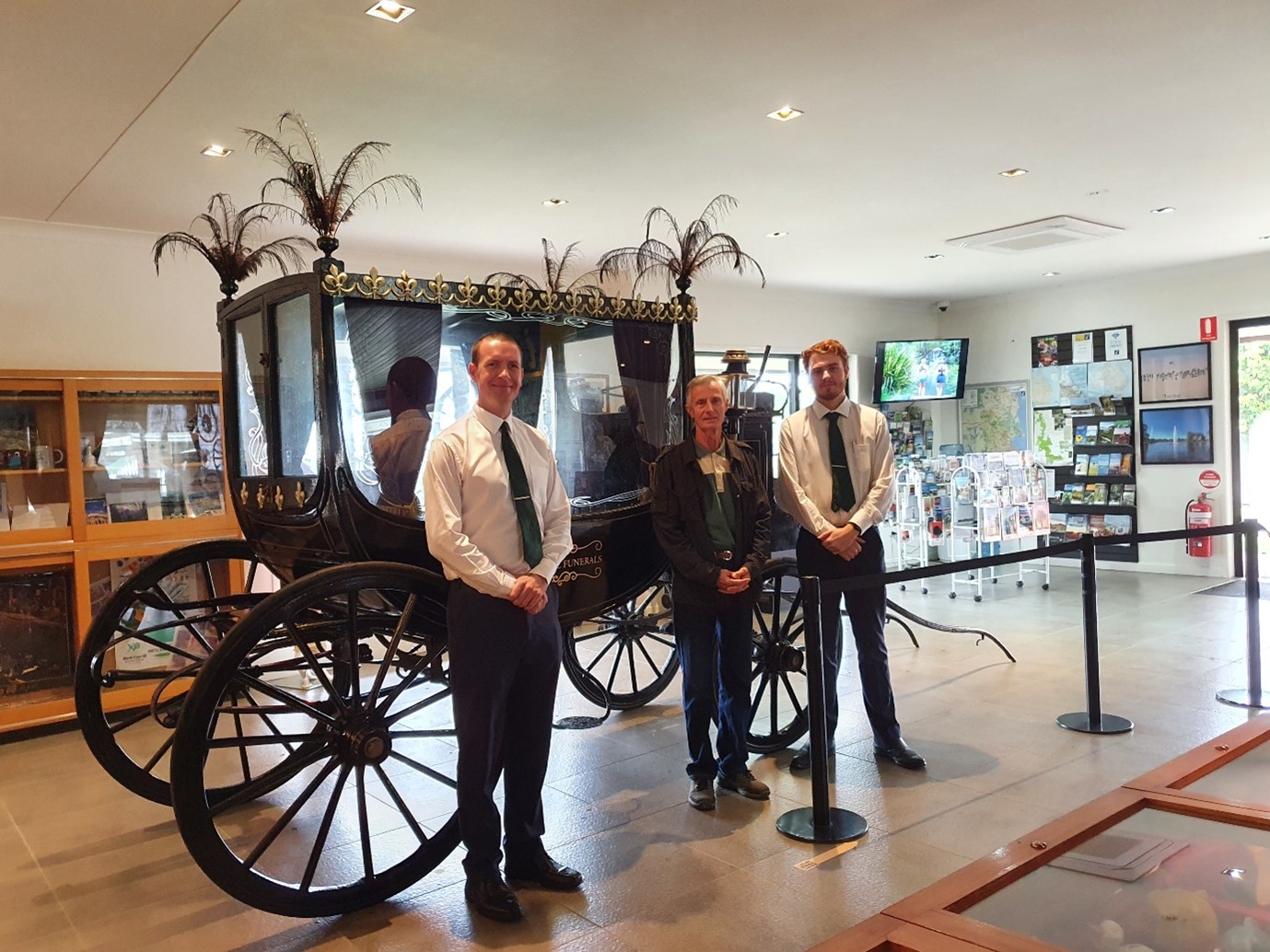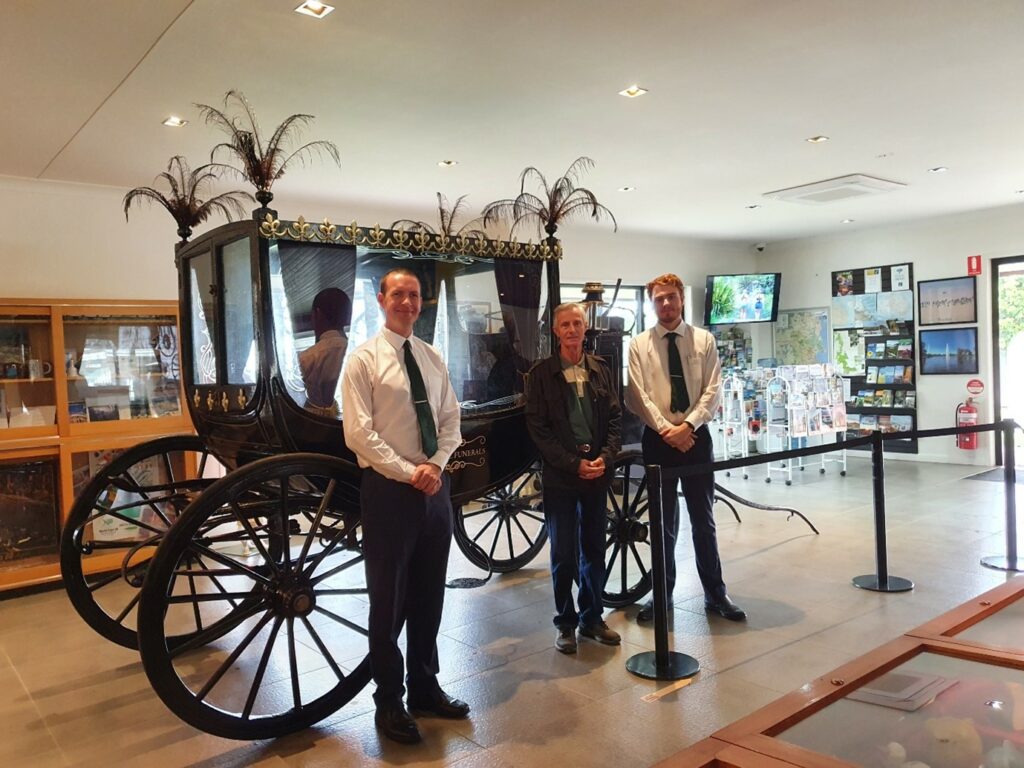 Not a lot of information was known about the carriage at the time of handover, so a bit of investigation was needed. We were advised that the carriage was purchased around 2016 from an antique dealership in Glasgow, Scotland and then transported back to Queensland. It holds a single coffin, which slides up under the carriage drivers seat and it had the original wooden rollers in situ. The lamps were believed to be hand made glass as it was very thick. The wheels had BARTH et GEIGER C'Sier PARIS 404 stamped into the metal hub of each.
Our investigations took many months, trawling through old newspapers and books, online articles and contacting some French institutions before we were happy with what we had found.

It was printed on 4 July 1861 in a French newspaper, Le Droit: Journal des tribunaux that Mr André BARTH and Mr André GEIGER had formed a general partnership for the manufacture and sale of coaches. The duration of this partnership was listed as being nine years and commenced on 1 July 1861. The location of this business 'BARTH et GEIGER' was Paris, impasse Javotte, rue Lombard, 18, 17th arrondissment. (18 Lombard Rd, cnr of Javotte, Paris).
After looking at a lot of French maps from the 1860's it was found that the street names were renamed from 1864 and are now rue Rennequin and rue Gustave Flaubert. Both streets still exist today.
According to the January 1864 Annuaire-almanach du commerce, de ĺindustrie (The Almanach of Commerce and Industry) Barth et Geiger was located at 16 Lombard-Ternes (rue) and were listed as serrurier en voitures (locksmiths for coach builders). Shortly after this they became listed as constructeurs de voitures (coach builders).
In 1864 the building they were in had the following occupants: –
Barth et Geiger – locksmiths for coach builders
Benoit – locksmith for coach builder
Husson – bricklayer
Tamisier – locksmith
Vincent – grocer
By 1870 the building had the following listed as occupants: –
Bailly – shoemaker
Barth et Geiger – coach builders
Musset – coach builder
Rousseau (Louis) – metal grating, wire netting, fencing
Vincent (Arm.) – grocer
By 1871 the building had the following listed as occupants: –
Musset – coach builder
Rousseau (Louis) – metal grating, wire netting, fencing
Sellier – carpenter
Vincent (Arm.) – grocer
Barth et Geiger were no longer listed in the building anymore. Further investigation found that a court judgement for bankruptcy filed on 10 November 1871 indicated that Barth et Geiger had financial debts owing 10,364 Francs to the bank and other individuals.
We have been unable to find any advertising material for this business. But given it was in operation for ten years they must have had a fair bit of work come their way.
Andréas (André) Barth was born in Württemberg, Germany on 6 February 1826. He emigrated to France around 1860. He died on 9 April 1884, aged 54, and was buried in Bondorf, Germany.
Andréas (André) Geiger was born in Switzerland on 19 March 1834 and had moved to Paris shortly before André Barth. He died on 18 February 1901, aged 66, and was buried in Paris, France.
Further investigation found that a Mr DesPlanches commenced a coach building business in the same building and was still there in 1898 when a photo was taken down the street.  So it is possible that he took over from where Barth et Geiger had been.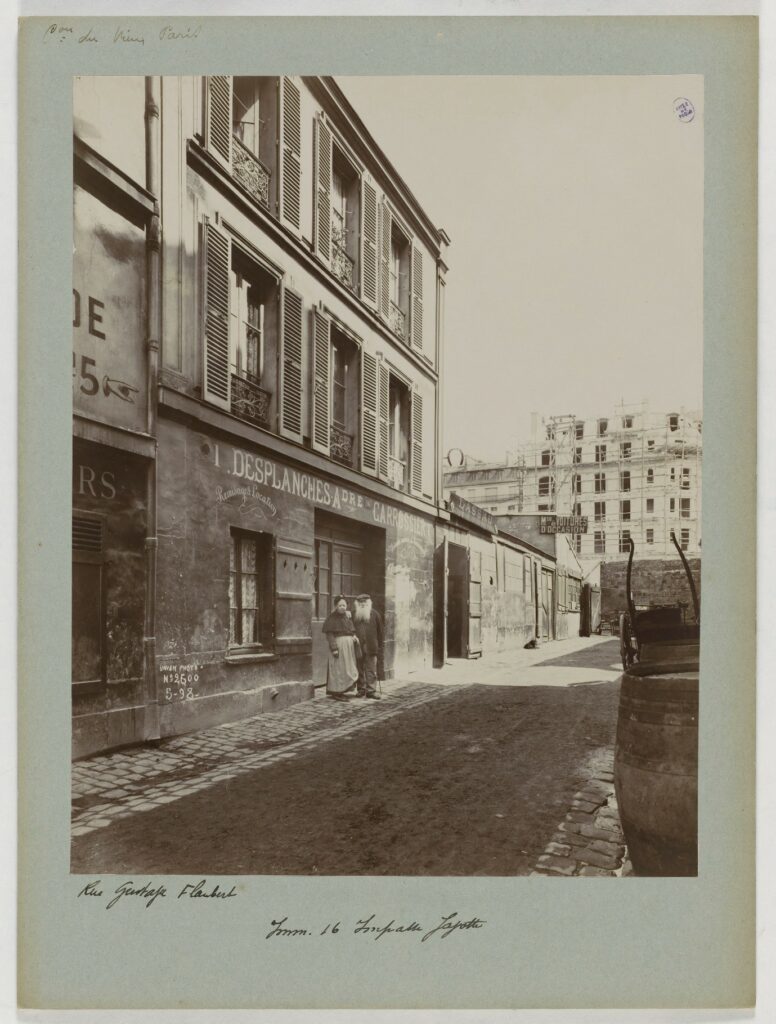 So it turns out the Funeral Coach was a French made Corbillard from between 1861 and 1871.
The French term for a Hearse or Funeral Coach is Corbillard and the Coach builder is known as a Carrossier.
The Corbillard is on display in our main reception area, so next time you are in the area pop in for a look at a bit of genuine French history.