The village has a small piece of history in the form of a three-wheeled motorised invalid's chair produced around 1946 and powered by a Ducati 48cc motor.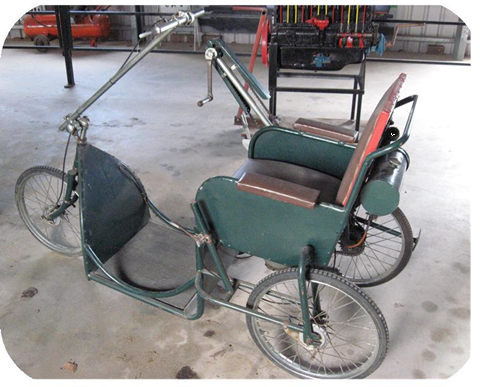 This invalid chair was donated to the Caboolture Historical Society Inc. over 15 years ago and is usually given a good run on most of our event days. As you can see from the photo above, it is in fairly good condition, just a bit of general wear and tear all over, but to be expected for an object over 70 years old.
Recently it was decided to give it a bit of restoration with a new paint job and some new upholstery. The seat was removed and sent to North Coast Trimmers for a make-over.
It was at this time that a brass plaque was found on the seating area. This plaque had 'Manufactured by F. D. Walcott Pty Ltd, 88-90 Wentworth Ave, Sydney' stamped on it.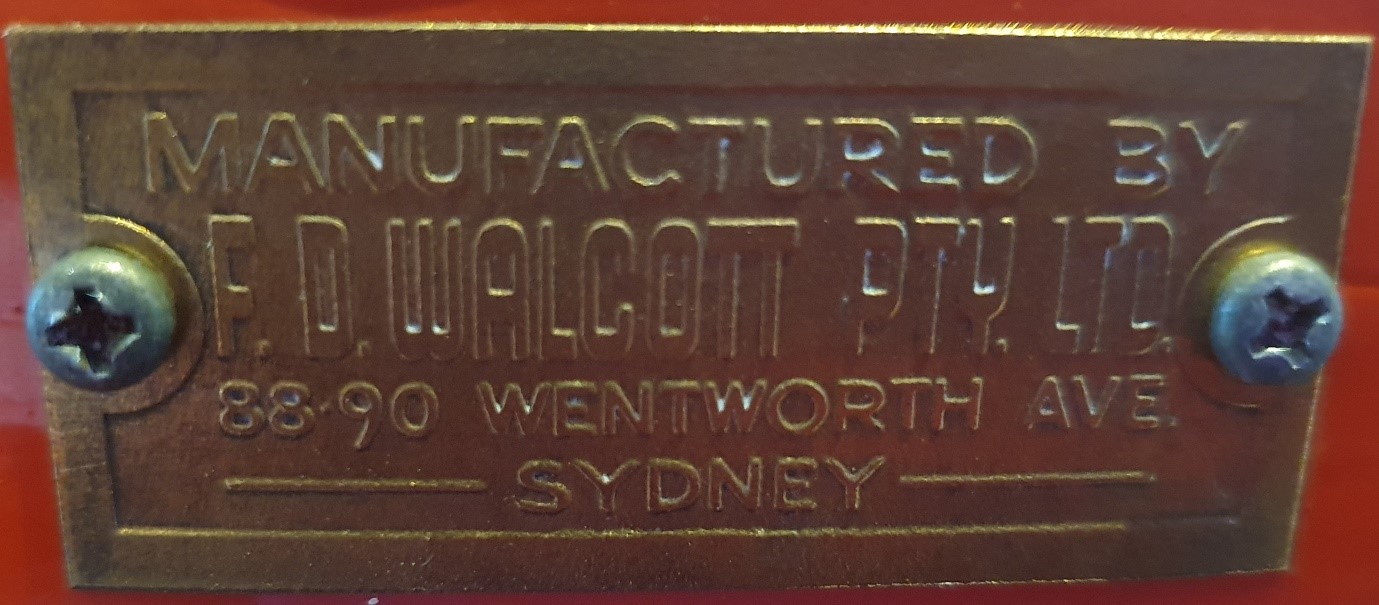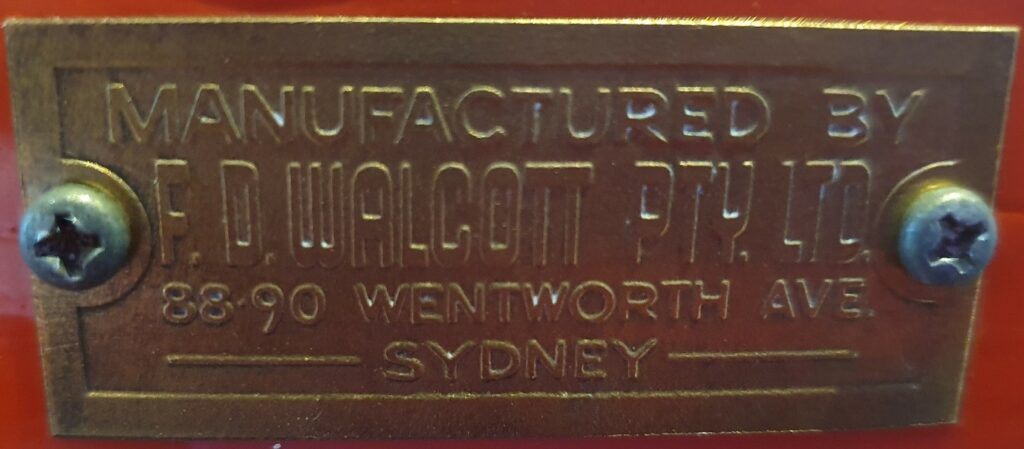 Henry Lyons Walcott, was a labourer and gold miner who came to Australia from England with his family at the age of nine. They settled in New South Wales around the Forbes area. Henry married a local girl, Mary Elizabeth Dengate, in 1865 and together they raised 18 children! Henry was declared bankrupt in 1898 and passed away on 31 December 1908. Mary passed away on 11 November 1911.
Frederick Dengate Walcott was born on 28 November 1888 and was the 2nd youngest of the children. He and two of his brothers (Arthur and Robert) were well known on the cycling track and had a long career in road racing.
Fred was cycling as soon as he left school and by 1907, at age 19, he began riding in long distance amateur courses. He was a member of the Northern Suburbs Cycling Club.
The term used by all those who rode a penny-farthing and then bicycles was not a cyclist, it was a 'Wheelman'. This was used all around the world and continued into the early to mid 1900s when the term was dropped and the use of cyclist became the standard. Fred was part of the New South Wales League of Wheelmen later in his career.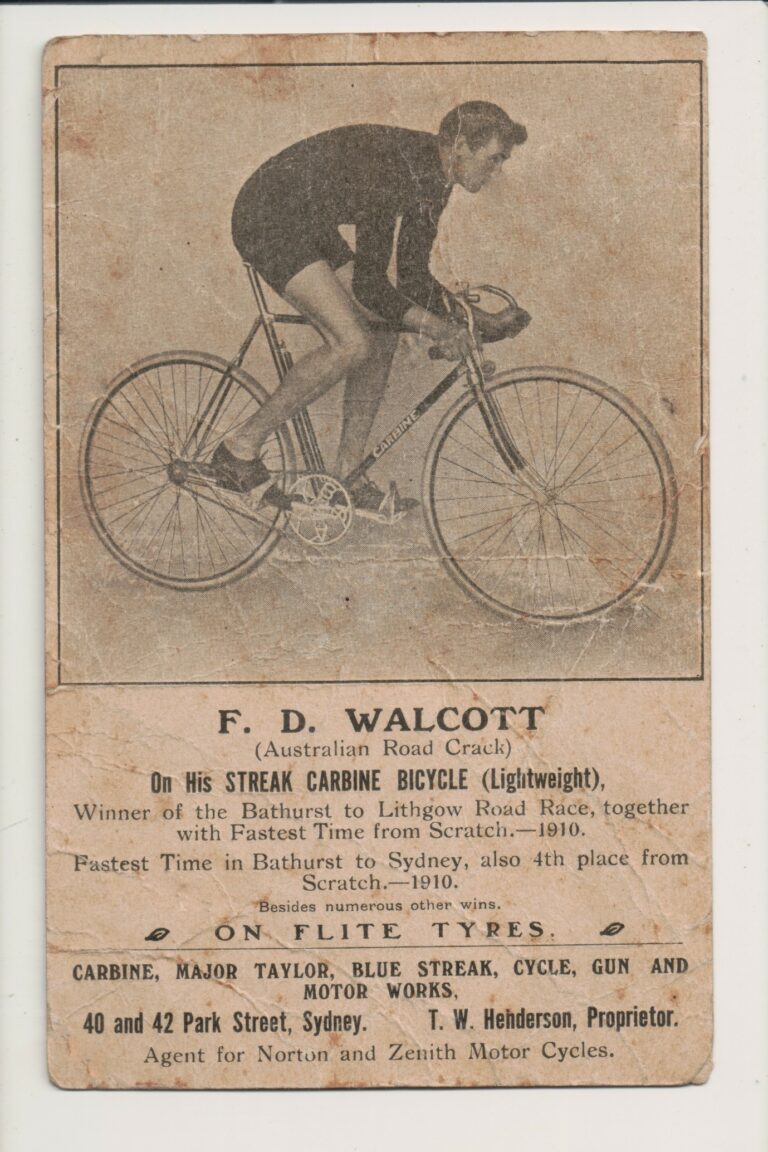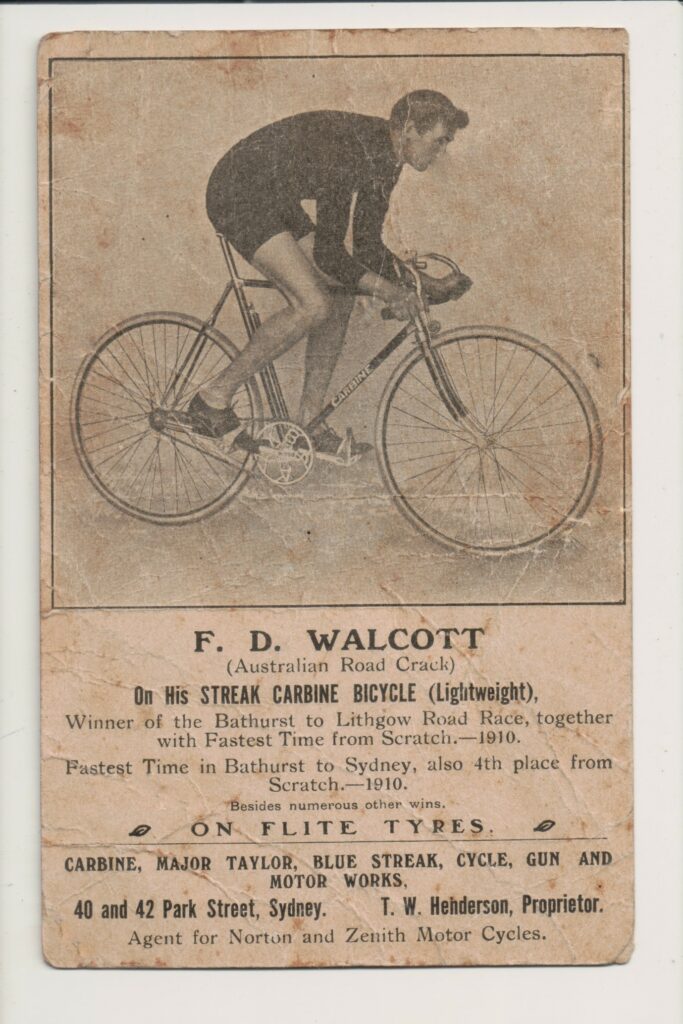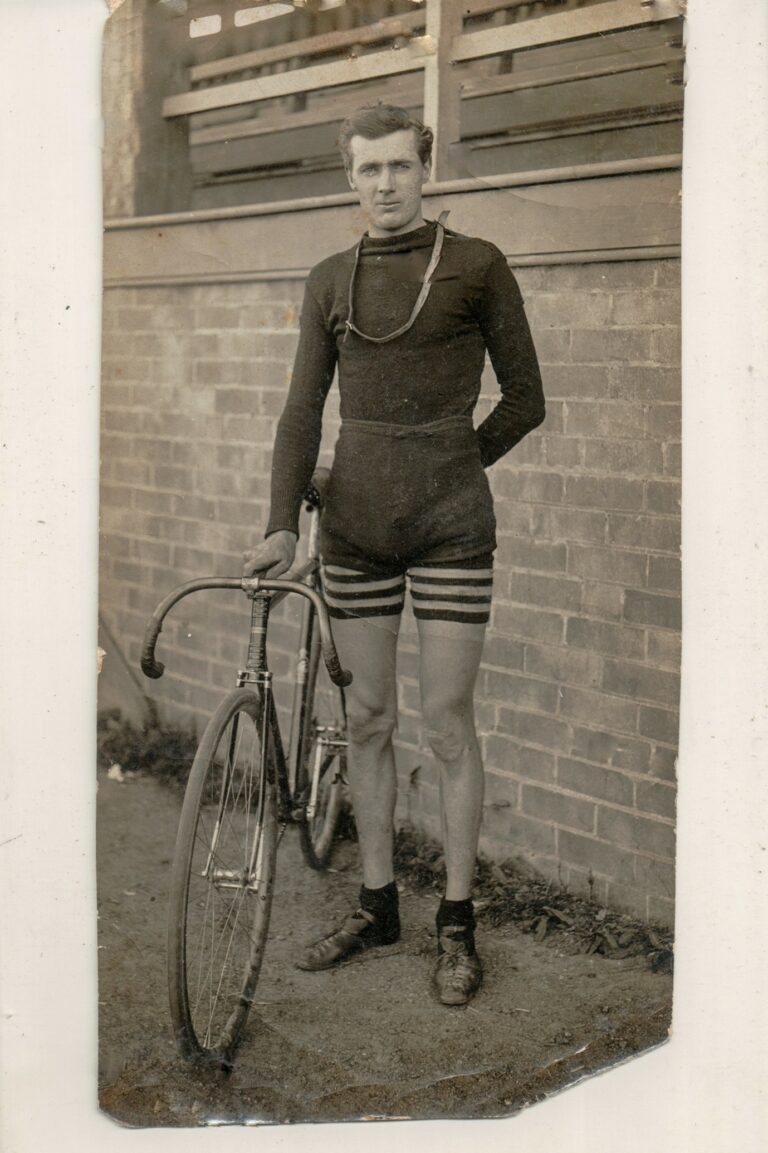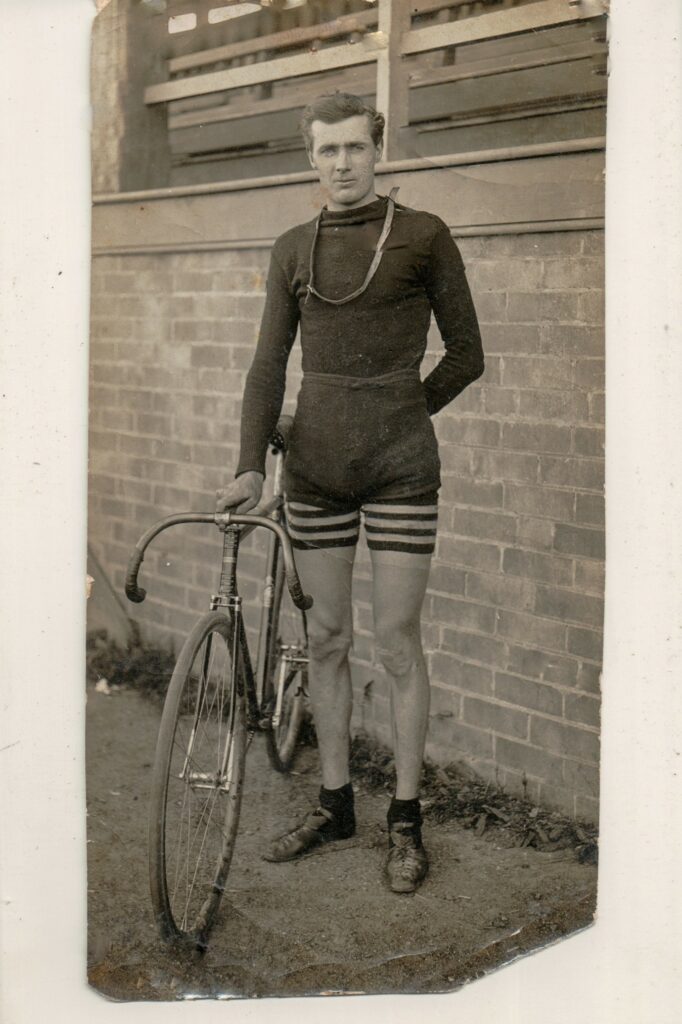 His early days were sponsored by T. W. Henderson who owned the Carbine Cycle and Gun Shop. 'Carbine' was a Melbourne Cup racehorse that won the Melbourne Cup in 1890. The great Phar Lap was a descendent of Carbine.
The bicycle was named after the racehorse to imply speed.
Fred came 4th in his first race, Bathurst to Sydney (215km) in 1907. He came first in the Bathurst to Sydney in 1909 and again in 1910. In 1910 Fred was first and fastest, from scratch, in the Bathurst to Lithgow and set a new time for the course of 2 hours 6 minutes.
He also competed in three 'six days' races.
He and his brother Arthur were part of the 10 man squad that won the Dunlop 100 miles Relay Test (on the road) in 4 hours 6 minutes 55 seconds—a world record.
Fred bought the Carbine Cycle business in 1918 and became known for riding, manufacturing and selling Carbine cycles. Carbine bicycles were used by serious racing cyclists in New South Wales and during the 1930s dominated the racing scene.
By the 1930s Fred had introduced 'Invalid Chairs' to his stock as most wheelchairs used bicycle wheels. Some of the more popular wheelchairs he sold were the folding versions.
By the mid 1940s Fred was advertising electric driven, brand new, imported invalid chairs.
F. D. Walcott Pty Ltd was closed in 1958 and any excess stock sold off.
Fred passed away on 28th April 1960 but will forever be known for Carbine bicycles and invalid chairs.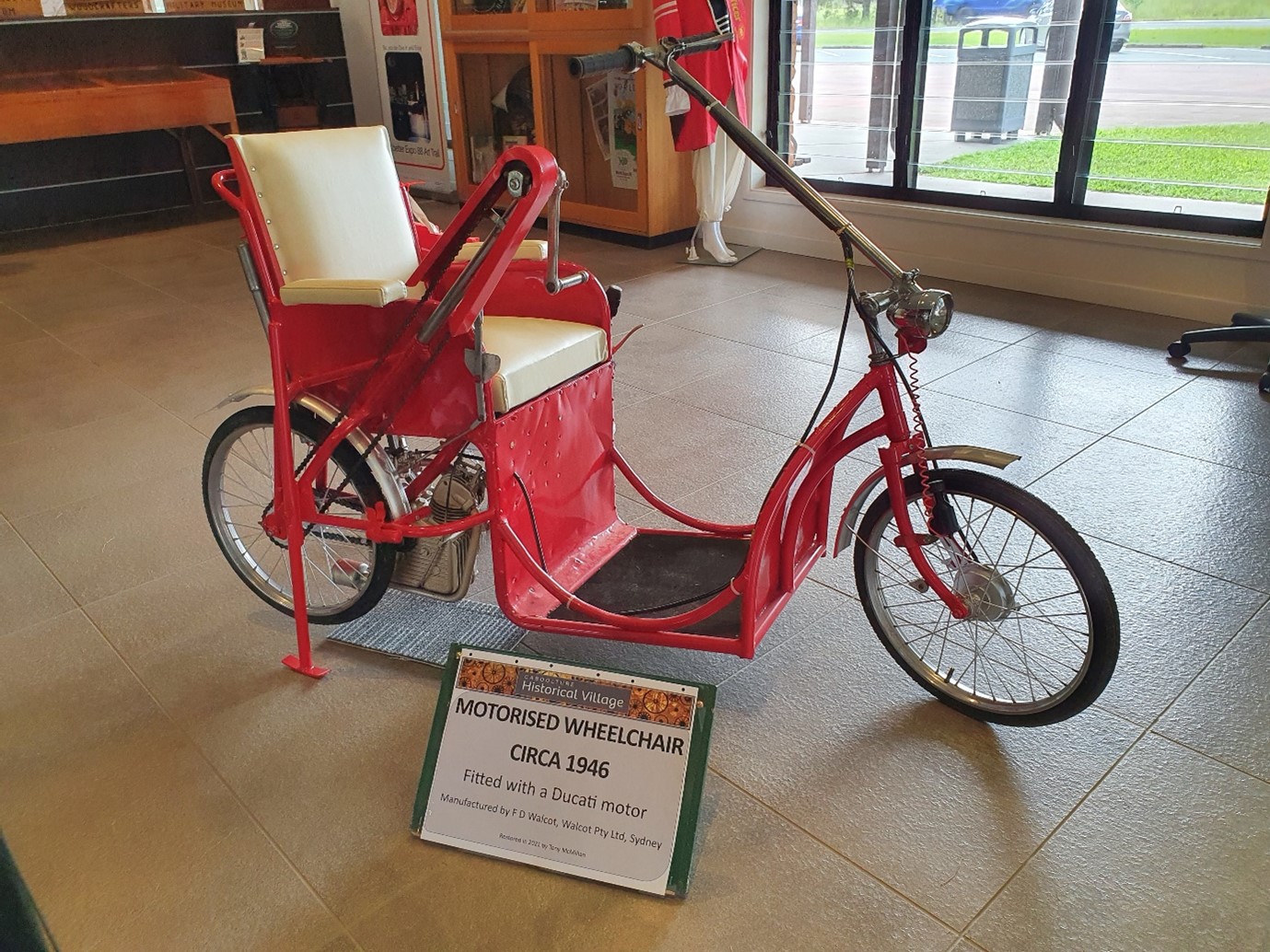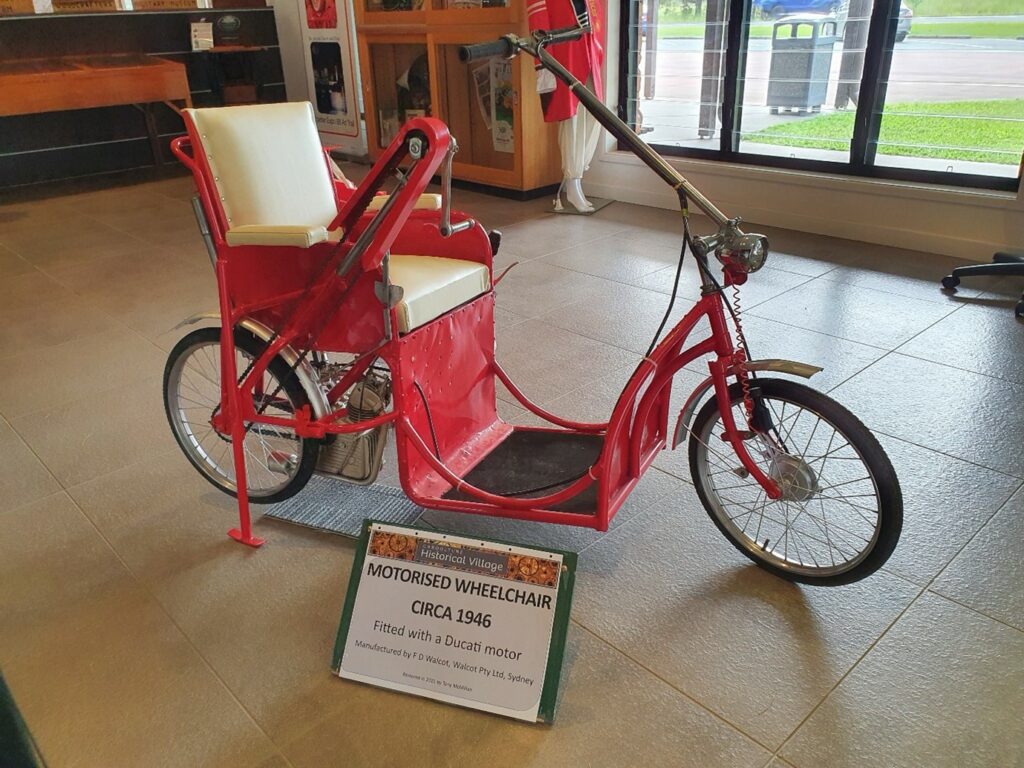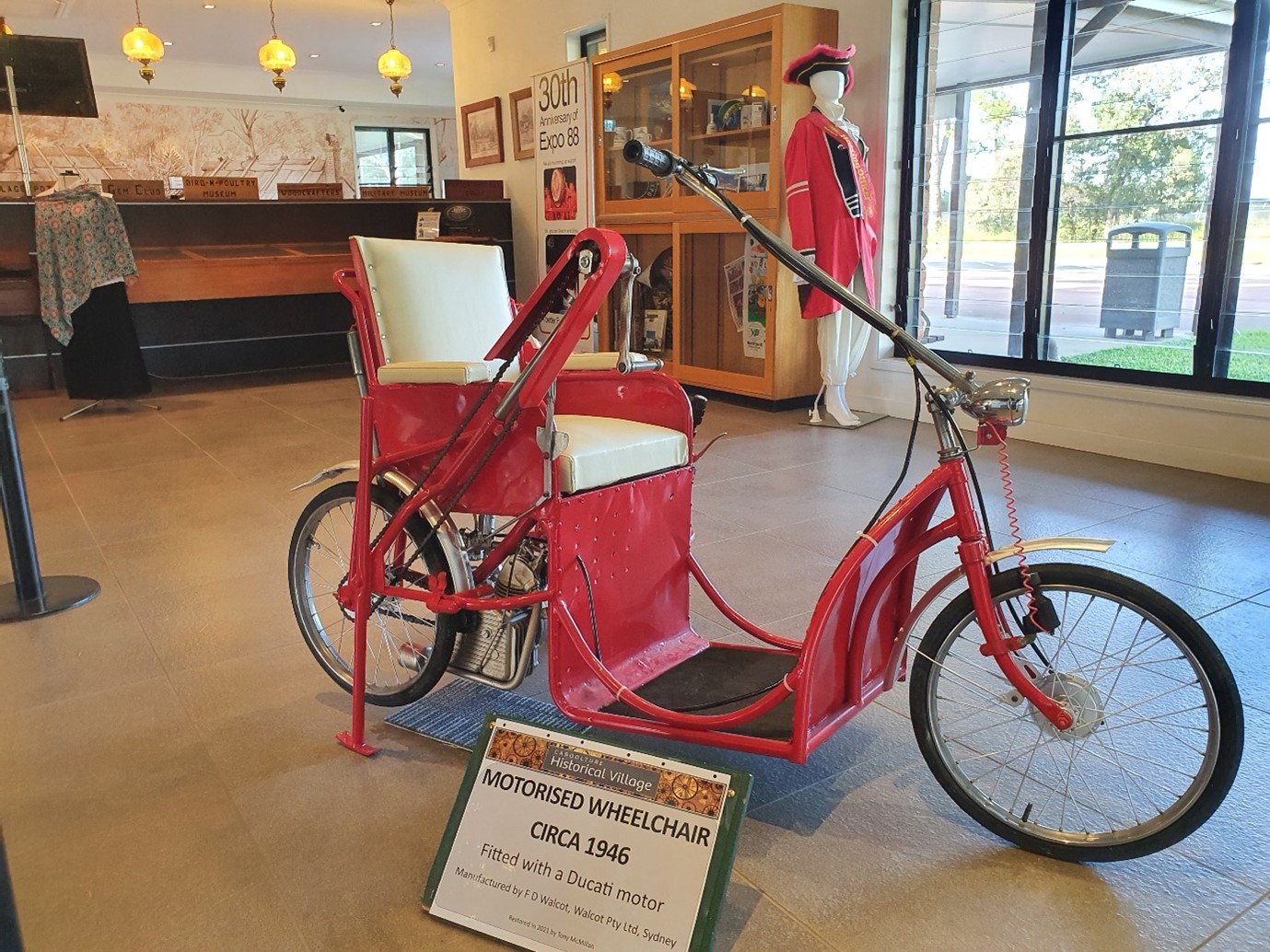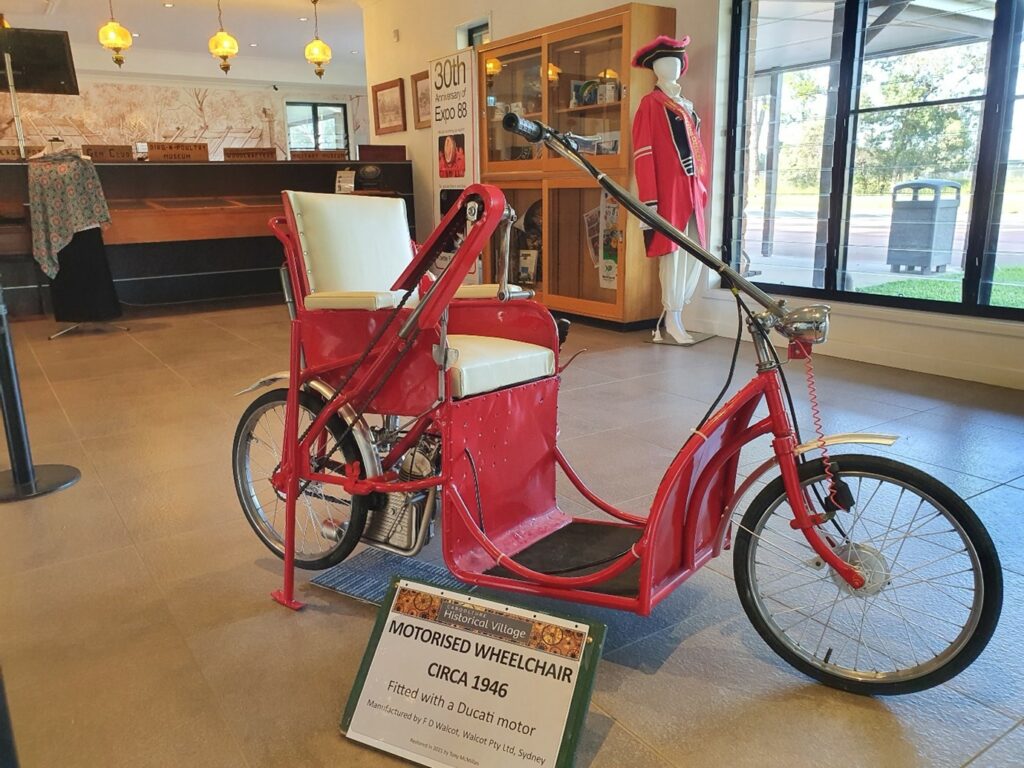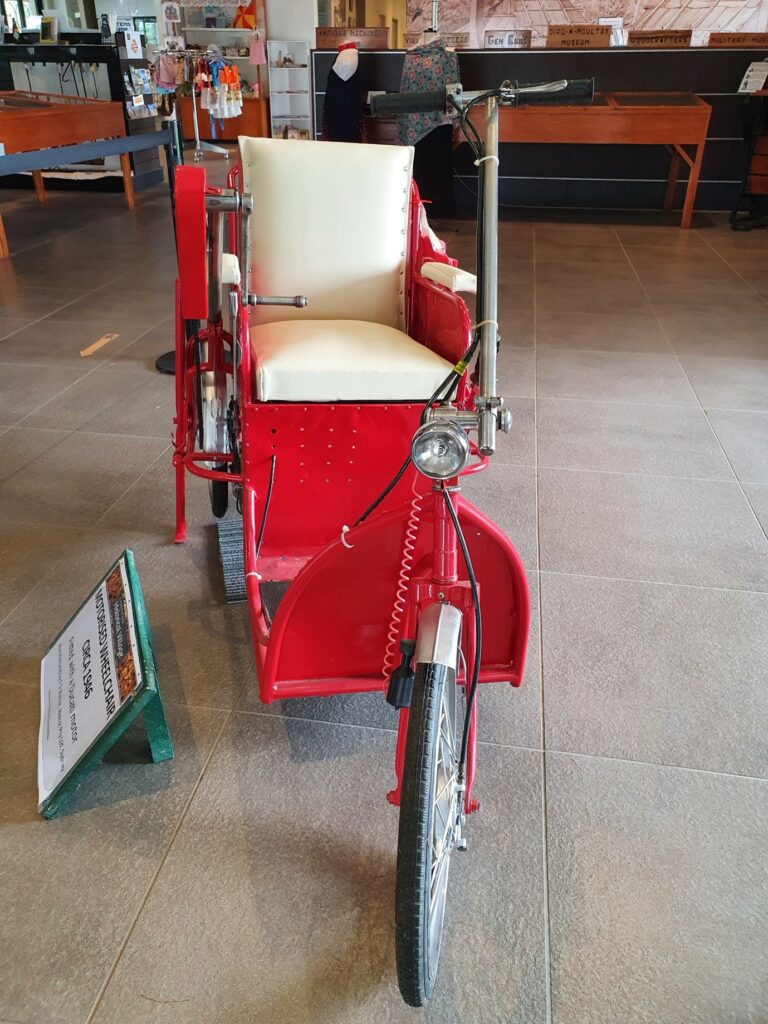 Thank you to North Coast Trimmers for doing a wonderful job with the seat and arm rests.